Best Pen Drive 32GB Price in India
Check out the list of Top 32GB pen drive with Price in India
Sandisk Cruzer Force 32 GB Pen Drive
HP 32 GB Pen Drive
SONY Micro Vault 32GB Pendrive
SanDisk Ultra Dual Drive M3.0 32 GB OTG Drive
KINGSTON 32 GB Pen Drive
1. Sandisk Cruzer Force 32 GB Pen
Sandisk Cruzer Force 32 GB Pen Drive  (Grey)

₹449
USB 2.0|32 GB
Plastic
For Desktop Computer, Laptop
Color:Grey
SanDisk brings you this sleek, stylish and durable Cruzer Force pen drive which allows you to store all your important documents, pictures and music files conveniently.
Protects your Files
This 32GB pen drive protects your files inside and out, thanks to its durable metal casing.
SanDisk SecureAccess
You can stay assured about all the files that are stored in this pen drive as it comes with a SecureAccess which allows you to create a password-protected folder for security.
2. HP 32 GB Pen Drive
HP V236w 32 GB Pen Drive  (Silver)
₹414
USB 2.0|32 GB
Metal
For Laptop, Desktop Computer
Color:Silver
Warranty 1 Year limited from the date of purchase
Weight 6.4 g
Read Speed Upto 20 MB/s
Write Speed Up to 4MB/s
Featuring a capless design and a sleek metal housin, the HP USB 2.0 Flash Drive v236w offers intelligent storage in a sleek and slip package. Store all of your documents, pictures, video clips, MP3 files and more. Take it with you everywhere, wherever you go.
3. SONY Micro Vault 32GB Pendrive
SONY Micro Vault 32GB Pendrive USB Flash Metal Drive USM32MX 32 GB Pen Drive  (Silver)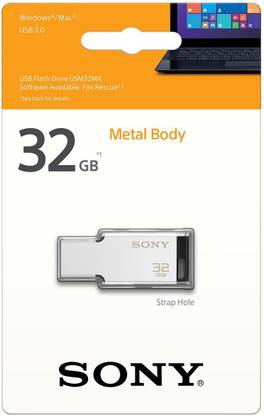 ₹560
USB 2.0|32 GB
Metal
For Desktop Computer, Audio Player, Television, Laptop
Color:Silver
4. SanDisk Ultra Dual Drive M3.0 32 GB OTG Drive  
SanDisk Ultra Dual Drive M3.0 32 GB OTG Drive  (Black, Type A to Micro USB)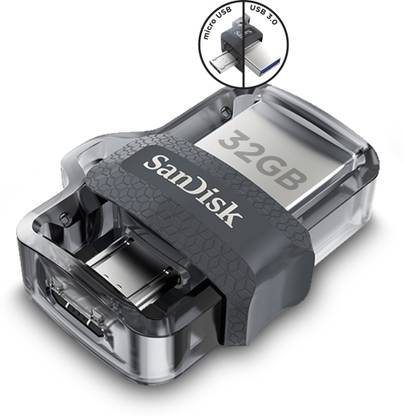 ₹539
USB 3.0|32 GB
Plastic
For Laptop, Desktop Computer, Mobile, Tablet
Color:Black
Weight 0.2 g
5 Years Warranty
When the journey seems to be too long, all you have to do is take out that SanDisk Ultra Dual USB Drive from your pocket, transfer that movie to your phone and enjoy the rest of the journey. Yes, this pendrive comes with a really high transfer speed that you will love. Compatible with most Android phones, PC and Mac computers, the pendrive can easily be shared. The pendrive comes with dual connectors and can be used to bridge phones, tablets and computers.
Product DescriptionCompact and stylish, the SanDisk Ultra Dual 32 GB OTG Drive makes transferring data and files as easy as pie. With one micro-USB and USB 3.0 connectors and an easy retractable design, this OTG drive lets you transfer, store and share files easily.
Compatibility with Android Smartphones
This pen drive is compatible with most OTG-enabled devices so you can transfer files to your smartphone, tablet, PC and even Mac computers.
Retractable Design
Its sleek design makes it easy to connect to both micro-USB and USB 3.0 connectors.
High Speed
With a high-speed of 150 MB/s, this pen drive can transfer files in a jiffy
SanDisk Memory Zone Application
It helps you manage and backup files easily on your Android device.
5. KINGSTON 32 GB Pen Drive
KINGSTON DTIG4 USB 3.0, 32 GB Pen Drive  (White & Red)

₹465
USB 3.0|32 GB
Plastic
For Desktop Computer, Tablet, Television
Color:White & Red
Covered in Warranty
5-Year Warranty, Free Technical Support
From movies and documents to songs and photos, this 32GB Kingston G4 DataTraveler has enough space to store all the things you love. Thanks to its compact and ergonomic design, this portable pen drive can easily fit into your pocket.
Product Description
When you want to quickly transfer your digital files, photos, videos and more from one system to another, you can rely on the Kingston DataTraveler G4 to get the job done efficiently.
Storage
Featuring a storage space of 32GB, this pen drive offers you ample room to carry your dose of entertainment, wherever you go.
Practical Design
Featuring a colorful loop, this pen drive can be easily attached to your keychain for easy access. It comes with a cap to protect the USB connector from damage and dust.
USB 3.0 Performance
Transferring files from your laptop or PC to another system will not only be easy but also fast with this pen drive?s USB 3.0 connectivity option. It is also backwards compatible with USB 2.0 ports. It is compatible with Windows (Vista and newer), Mac OSX 10.8.x+, Linux 2.6+, and Chrome OS.